Sit Back, Relax and Enjoy.
Take Advantage of our Full Service Marinas & Resort Park.
OFFICE & GAS DOCKS/LAUNCH RAMP HOURS OF OPERATION:
Store / Dock Hours
April – May
Monday to Sunday
8:00 am
5:00 pm
June – August
Monday to Thursday
8:00 am
7:00 pm
Friday to Sunday
8:00 am
8:00 pm
September
Monday to Thursday
8:00 am
6:00 pm
Friday to Sunday
8:00 am
7:00 pm
October
Monday to Sunday
8:00 am
5:00 pm
We are now scheduling boat launch-ins:
Maitland Valley Marina and Maitland Inlet Marina customers requiringlaunch-in services must pre-book through our office at (519) 524-4409 or email info@maitlandmarina.on.ca.  You may use the launch-in form provided below
Launch in services commence May 1, 2022
Full Marina & Park Services For All Boaters and Resort Park Customers: Transient & Seasonal
Maitland Valley provides services and facilities for our Marinas & Resort Park.
Our Marinas feature a combined total of 250 slips accommodating boats up to 100′ in length, 30/50 amp hydro, town water and full length docks, and deep, clear, surge-free waters.
Take the guess work out of your boating and vacationing needs. Our professional services allow you the opportunity to sit back, relax and enjoy your stay at Maitland Valley Marinas & Resort Park.
30 & 50 amp service & potable water
Diesel, gas, oil & pump-out
60-ton boat lift & one-ton electric mast hoist
Marine engine & hull repairs
Immaculate washrooms & showers
Clubhouse facility
Weekly events open to all seasonal and transient customers
Fire pits & barbecues
Free transportation to town and golf course for visiting boaters
Groups welcomed
Pool & playground
Walking distance to three sandy beaches
Biking and hiking trails on adjoining properties
Golf and tennis next door at The Maitland (Golf & Country Club)
Excellent sport fishing and charters available for hire
Some of the best fishing on Lake Huron takes place along the river wall on our property
Beach lovers will have the choice of our own private beach or three public ones, bordered by an old fashioned board walk. In the evening, this is the place to be to view the "most beautiful sunsets in the world" according to National Geographic. If you're lucky you can catch it twice, a phenomena unique to Goderich.
Our Marina and Resort Park customers are entitled to a 20% discount on all memberships at The Maitland (Golf & Country Club), which is located within easy walking distance of the park. The Maitland features well-maintained greens and fairways, as well as fully-lit tennis courts. The Maitland also offers tennis and golf summer camps for kids.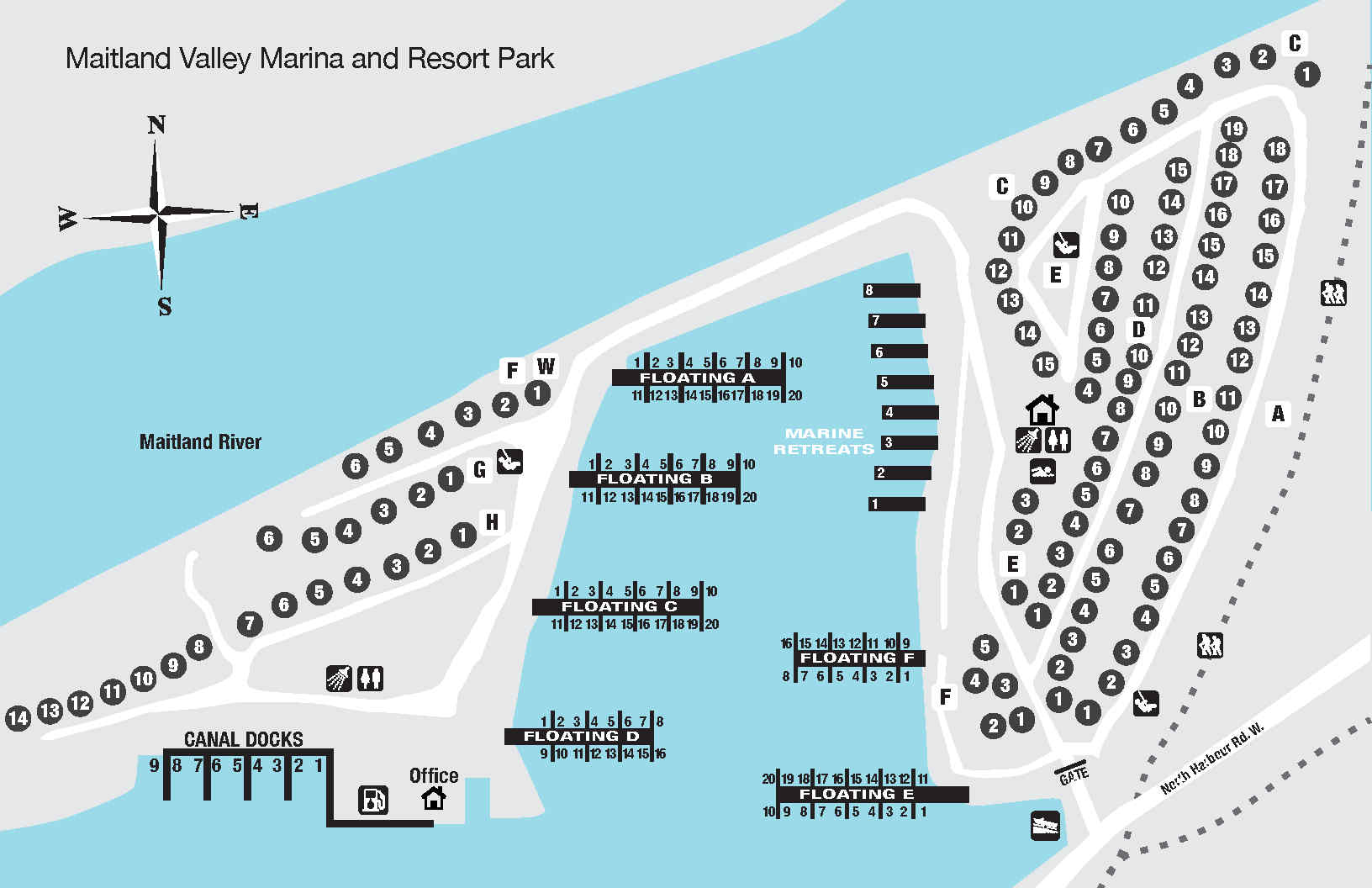 Download a map of our park.